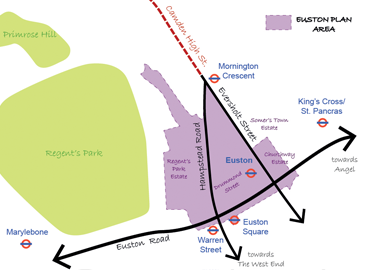 Planning for the future of the Euston area
A new plan, called the Euston Area Plan, is being prepared for the area around Euston Station to help shape change in the area up to 2031. It is being jointly prepared by Camden Council, the Greater London Authority and Transport for London and seeks to ensure that, whether or not the new High Speed rail link (HS2) goes ahead, despite Camden Council's strong opposition to HS2, we can get the best possible future for the residents, businesses and visitors to Euston.
Get Involved
The Euston Area Plan has now been adopted. For more information, including the adopted EAP and Adoption Statement, please visit the documents page.
Timeline
The timeline for the production of the Euston Area Plan ensures that the results of the consultation and the emerging plan will influence the HS2 project.

Current Stage

Euston Area Plan adopted.
Latest Posts
Camden Council adopted the Euston Area Plan at its full Council meeting on 26th January 2015. In addition, the Mayor
Read the full article…

Following the submission of the Proposed Submission EAP (published for comment between January and March 2014) to the Government for
Read the full article…

On 10th April the Euston Area Plan Proposed Submission version and supporting documents were submitted to the Planning Inspectorate for
Read the full article…