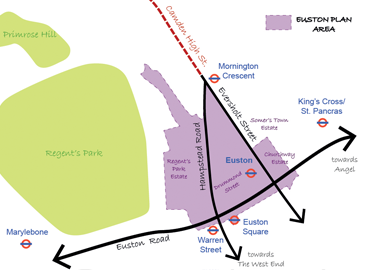 Planning for the future of the Euston area
Euston station is changing, with HS2 Ltd preparing for construction, and Network Rail, Crossrail 2 and Transport for London also thinking about how to design the station. A fully redeveloped, comprehensively designed Euston station would create the potential for a new piece of city, maximising new homes, open space and new routes through and around the station.

Camden Council is planning for the future of Euston by producing long-term frameworks for development in the area, working with the Greater London Authority and Transport for London.
We are developing a draft Planning Brief for the Euston station area, which we will consult on in spring 2018.
News
Our consultation on principles for the Euston Station Area Planning Brief is now closed. We would like to thank all
Read the full article…

Following suggestions from Community representatives, please be advised that as part of the first  drop-in session at the St Pancras
Read the full article…

We are preparing a preparing a planning brief for the Euston station area with the Greater London Authority and Transport for
Read the full article…